Moderator: InsideQC Admins
I was reading a thread in the gameplay forum where people were talking about a monster that can fly and revive zombies/monsters. I thought I would have a go at making another flying monster, so I looked at some monsters from Castlevania for the NDS, and saw this guy: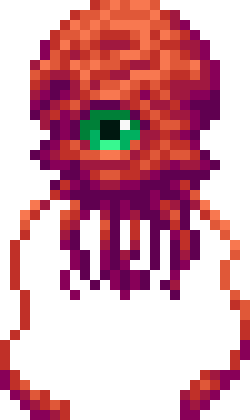 So here is what I came up with:
and here it is with the quake palette:
Here are the files if anyone wants to try animating it and putting it into quake (hint hint Madfox)
http://hahasweet.com/wp-content/uploads/2011/07/nominon1.zip
I am leaving for the whole month of July to do a review course for my board exam so I will be AWOL until after August 5th.
Posts: 13
Joined: Sun Jun 05, 2011 10:22 pm
---
I like very much the texture design. Good work!
Posts: 1388
Joined: Tue Feb 24, 2009 4:39 pm
Location: Italy
---
Great job, DrDire. Actually, the mesh fits quite well in Quake's lovecraftian visual. If you could change the skin to look more like rotten flesh with open scars it would help to blend it better yet with Quake.
I know FrikaC made a cgi-bin version of the quakec interpreter once and wrote part of his website in QuakeC
(LordHavoc)
Posts: 2120
Joined: Sat Nov 25, 2006 1:49 pm
---
Nice looking low poly model you made there DrDire.
Posts: 462
Joined: Wed Mar 01, 2006 8:29 am
Location: Upstate, New York
---
---
Who is online
Users browsing this forum: No registered users and 1 guest